Rooted Kids
Children Ministry
And Jesus grew in wisdom, stature, and favor with God and people.
Rooted Kids is our children's ministry for infants through fifth grade.

Rooted Kids and their families are equipped to grow in their faith in Christ and reach others for the Kingdom.

Rooted Kids are:
rooted in Christ as their foundation.
growing in their faith.
witnessing to their peers.


There is care for the littlest children all morning in the middle hallway. Sessions for toddlers include a children's Bible story. A nursing area is provided for mothers in the crib room. This is available during both services.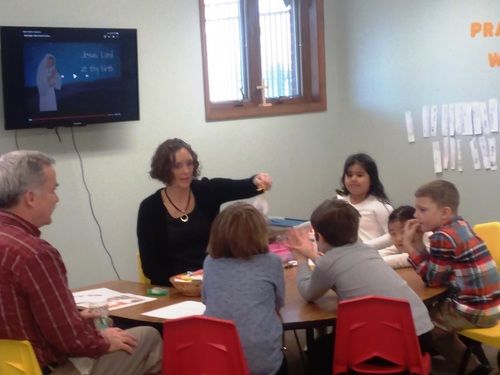 Children 3 years – Kindergarten have their own Bible lesson, learning activities, and play time while children grades 1-5 participate in active worship through singing, engaging Bible lessons, games and activities. Groups meet in the north hallway . The children sit in the music worship portion of the service and are dismissed during the announcements. This is available during the 10:45 AM service only.
Please arrive a few minutes early when it is your first time to register your child (or register below). Nursery and toddler care are available all morning. Check-in time is 8:45 am for Sunday School and 10:15 am for Children's Church. For the check-in centers, you will need to use your phone number with area code to find your child. If you need to update your phone number, please let us know. You will receive a name tag for your child to wear in class and a tag for you to pick up your child after service.

If you have any questions contact
Children's Director Lisa Thomas.
Please click on the link below to complete the registration form for children's ministry.



Follow Rooted Kids on social media.
We'd love to hear from you. Fill out the form below to get started.